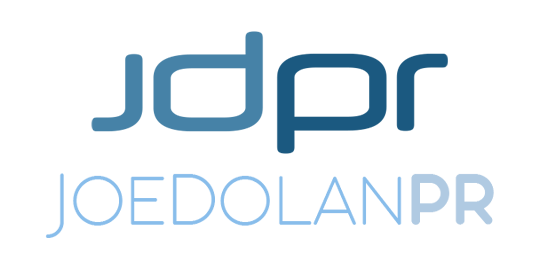 Working with our firm does not place you as another number. When you hire JoeDolanPR, you are essentially hiring Joe as a personal employee for the chosen duration of your term. Joe handles your campaign as if he were directly under your employ, considering and acting on your campaign 24 hours a day. Every job is personal to Joe, and he treats every client's needs that way.
We don't just pitch cool products and create online fun… we build experiences that bring happiness and joy. We are not performing a simple and repeatable process; every client has similar goals, but different needs. It's our experience that will help address each of those needs intimately.
We were founded to do more than just help masters of their trade to enter the marketplace or to compete with similar brands, we were founded with the principals and core business ethics Joe Dolan has used to bring success to virtually everyone he's worked with. We're forward-thinking. We focus on people and their emotions. We strive to influence others to do the same.
We are driven by passion and the desire people have to be happy. We are committed to building a family of brands that offer uplifting experiences and make people smile. What most call happiness, we call success.
WE'VE PRODUCED CONTENT FOR
Rider Roundup
So Cal Burn Ride
Alex and Ani
The NAMM Show
Nike 6.0 BMX Pro Tour
Coastal Carnage
LA Car Show
Rock and Roll Fantasy Camp
TJ Martell
Disney Family Day
Medlock / Krieger
LA Kiss Football
Bowl For Ronnie / Stand Up To Cancer Fund
Cruefest Hollywood
Call to the Wall
MixFest Boston
NE Metal and Hardcore Festival
Huntington Beach Surfer Walk Of Fame
Rick Springfield's Rock For Ruben
Randy Rhoads Remembered
Ronnie Montrose Remembered
Soundcheck Live
US Open of Surfing
The Warped Tour
Bass Player Live
Frank Stefanko
LA Drum Show
Rock Against MS
The Key Club
The Viper Room
The Rainbow Bar and Grill
The Worcester Palladium
Sampson Enterprises
Justin Coppolino
Tyler Mane
NE Patriots
Warren Huart
Fusello Publishing
Kawaii Notebooks
Leaktronics
Torque Lock Structural Systems
Pipe Fuze
LeakShot
BitKOO
Disney Music Group
DW Drums
Hooves
Guitar Center
Java Boi
Retrospect Records
Phil X / The Drills
Gaslamp Killer
All Hail The Yeti
Joe Vitale
Bruce Bouilette
Budderside
Danielle Taylor
Dennis DeYoung
Dilana
Dizzy Reed's Hookers and Blow
Doug Rappoport
Dug Pinnick / Grinder Blues
Faster Pussycat
George Lynch
Fire Tiger
Gilby Clarke
Heaven and Earth
Hed PE
The Iron Maidens
Jack Russell's Great White
James LoMenzo
Jane Getz
Jani Lane
Jeff Scott Soto
Jizzy Pearl
Joe Taylor
John Crorabi
Kenny Aronoff
Kevin DuBrow
Kill Devil Hill
Raphael Moriera / Magnetico
Orianthi
Paul Gilbert
Queen Nation
RSO
Skid Row
Steel Panther
Steve Stevens
Winery Dogs
Van Halen