E-COMMERCE / PRINT PRODUCT SHOTS
Product shots are necessary for your website, and depending on your SKU list, this could be single product shots, lifestyle shots for socials or shots for printed media or as with LeakTronics, a growing line of products that support the business. You need photos? We can assist with that.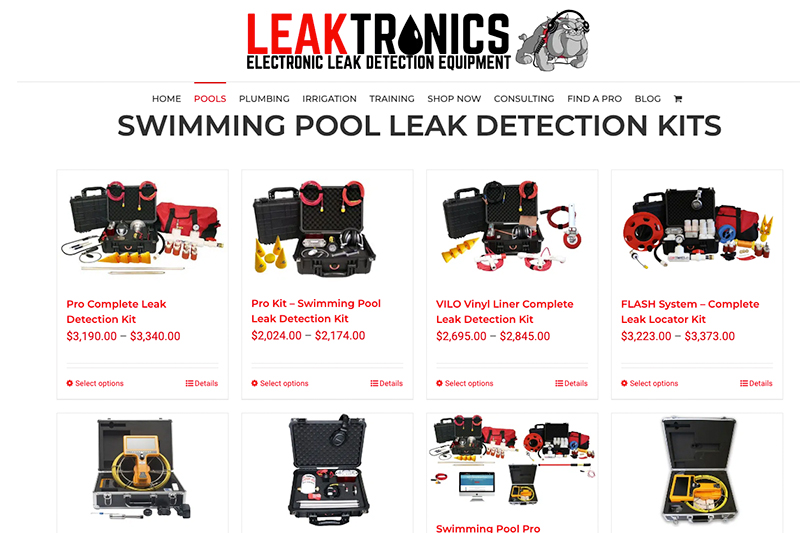 When working with this brand, the product line was growing. From underwater microphones, complete product kits and training packages – the SKU list on their sales items needed visual representation. As each product was developed and internal components were mixed and matched, we would set up the products, take an assortment of photos and prepare them in Photoshop for the website.
The photos were used to create an evolving printed catalog, assembled into video presentations and slideshows for events, implemented into videos and used on marketing materials. When a new product came into the mix, we repeated the photo process while maintaining the same style and imagery as we produced at the start. The website and printed materials we created kept the same color schemes and branding to help create a wealth of available images to use in growing the business.
In the video above, you'll see images placed into the timeline as well as a large backdrop we created using brand images we shot. That backdrop is used at expo events and in the brands video content.
Incidentally, we also created a long list of video content on the fly for regular email distribution that we provided to market the brand to prospective independent consumers with critical success. The brand is now a global leader in the industry.