Keyword driven article content with a unique topic and context improves your website's Search Engine Optimization and ranks your site's pages higher in search engine results based on those keywords and related topics.
Suadella Chocolatier – It's No Guilt Chocolate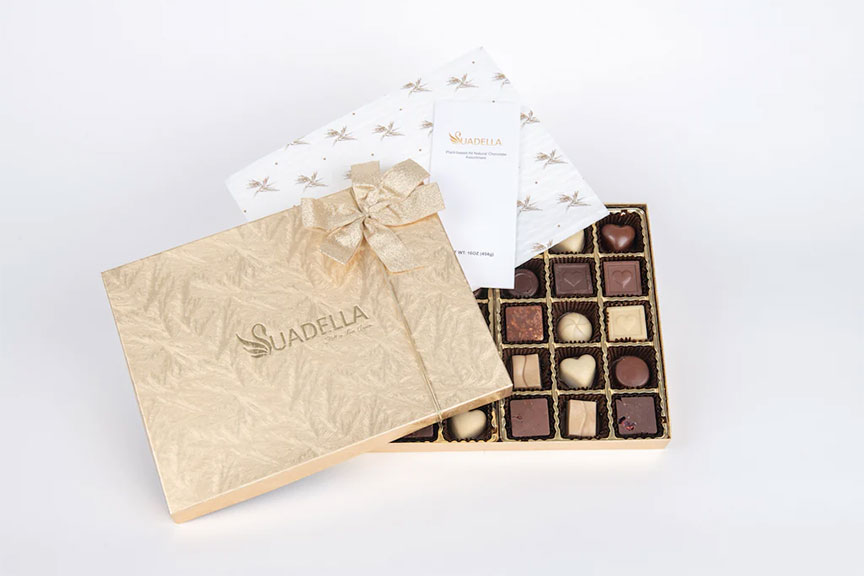 Taste TV and the International Chocolate Salon have announced 2022's Best Vegan Chocolates and Suadella Chocolatier was a stand out while competing with world renowned chocolatiers. New to the market in 2022, Suadella Chocolates deliver the first organic, plant based chocolate of their kind; with a wide assortment of dairy-free and allergen-free Creme Blanch, Creme Gold and Dark Chocolate options. You experience the satisfaction your sweet tooth craves while avoiding additives and artificial flavors.
On August 24th, at a reception on the rooftop of the London Hotel in West Hollywood, chocolatier Nina Delon introduced her line of award winning treats to the marketplace with a gorgeous edible display of individual chocolates and boxed chocolate bars to take home. Attendees were more than delighted as they gathered together discussing the each bite they took; rolling their eyes back in pleasure, convincing one another to try this piece, then to try that piece. The display with hundreds of chocolates, it's safe to say, did not remain intact as the night went on.
"We want to change the misconception that healthy or vegan alternatives lack richness and flavor," shares Delon. "We believe that conscious eating does not need to compromise the flavors we all enjoy. That's why we've created a gourmet chocolate line that is 100% vegan, organic and allergen-free."
Nina has worked hard to ensure that all of Suadella's ingredients are sourced from suppliers that share her concern for the environment. Only sustainable farming with USDA organic, fair-trade, Non-GMO and Kosher ingredients make the grade. All chocolates are 100% vegan and all ingredients are plant-based and sourced from organic whole ingredients.
"Another concern has always been serving chocolate lovers who have allergies," shares Delon. "We make sure all of our suppliers are operating 100% allergen-free facilities or are SQF certified. As for our own operations, we never use allergens or introduce any allergens within any of our facilities."
The rich and dark flavors in each piece of Suadella chocolates sing with the melody of luxury. Five-and-Dime candy bars simply cannot match this level of taste or satisfaction. The standard paper wrapped chocolate bar has little to do with chocolate and more to do with a waxy low-cost additive flavor and a sugar overload. It's a big reason why many people just avoid enjoying a piece of chocolate all-together; most standard chocolates are simply unsatisfying. What you'll experience with Suadella is just the opposite. It's truly how chocolate is supposed to taste.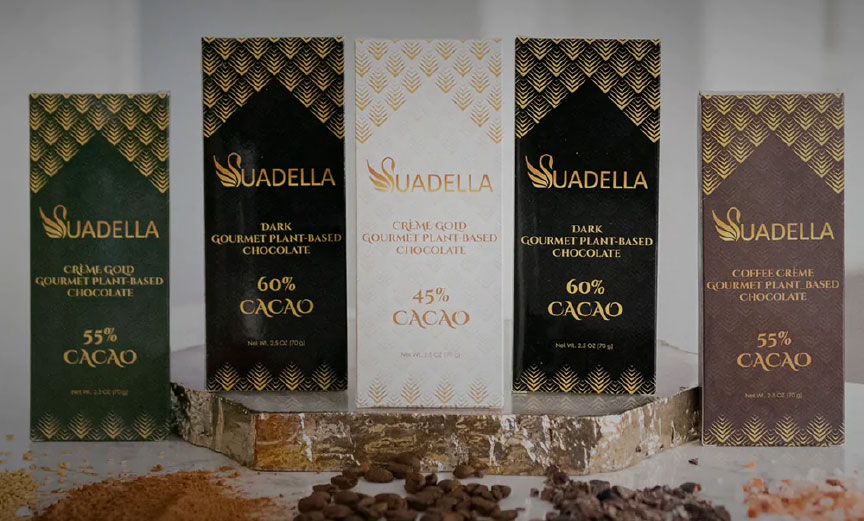 The Official Suadella Chocolatier website, www.suadella.com, offers 2-day delivery on an assortment of individual chocolate bars, boxes of individual treats and assortment packs to share, gift and cherish by yourself – after all, you're going to want some of your own to enjoy. With tender cares taken to ensure even the packaging embodies luxury, Suadella is a new brand you'll be enjoying for years to come.
Visit suadella.com to experience true chocolate without guilt and follow Suadella on Instagram: @suadella.